This ride descends Sliding Sands Trail to the Crater floor 2500 ft. below where a well deserved picnic lunch is served featuring our delicious croissant sandwiches! Round trip is 7.5 awe inspiring miles taking around 4 hours. Prior riding experience is recommended. Check in first at the ranch office, then continue up to the Visitor Center Parking lot just past mile marker 20 to meet your guide. Reservations required.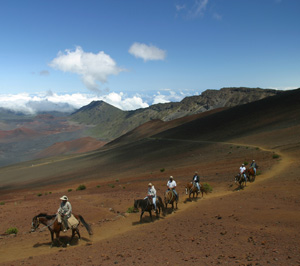 $182.00 + tax per person
8:30 AM
Book this Ride Now for the 10% Internet discount
(Times may vary call upon arrival to confirm check in times)
What to Bring:
"This is an outdoor ride at an elevation, so sprinkles and wind can come and go. We provide full rain gear and are looking for people ready for an adventure!"
This ride is not for first time riders. Children, especially, between 10-12 years of age should have been riding a minimum of 6 times and be on the athletic, adventurous, and mature side
Our crater horseback tours take place at the world famous Haleakala Crater, approximately 10,000 ft above sea level. We suggest that you wear long pants, closed toe shoes like a sneaker, dress in layers with a warm outer jacket, hat, and maximum sunscreen. Rarely do we have a rider that has a problem with the elevation, but it is something to consider before going on a crater ride. Drinking water beforehand to encourage hydration will help elevation issues. If interested in a lower elevation, maybe you should consider just visiting the crater and taking our Haleakala Ranch Rides at a lower elevation. Helmets are provided and recommended though riders may waiver their use.